Special venue for the opening
Charles University is delighted to prepare the next EUPRERA congress in Prague. We are looking forward to the first day, hoping that the congress' opening at the building of the Academy of Arts, Architecture and Design in Prague, Technology Center UMPRUM (picture), will inspire all of us.
Refreshment & Ateliers
On the first day, participants will have the opportunity to visit the ateliers of UMPRUM. We will provide you with two rounds of guided tours to present how works are crafted by students and teachers in various ateliers and workshops. Meanwhile, those who arrive and register can have a break and take refreshments in a lounge.
Kick-off activities
As pre-conference activities, there will be the Paper Development Workshop led by Alexander Buhmann, BI Norwegian Business School, Sophia Volk, University of Zurich, and Chiara Valentini, University of Jyvaskyla. Then, a special format event, Education Café, will take place, convened by Anca Anton, University of Bucharest, and Monique Abbenbroek, Hogeschool Rotterdam.
Keynote Speakers
After these pre-conference activities, there will be the official opening of the congress (in the late afternoon). The short speeches given by the organizers from the Faculty of Social Sciences and the EUPRERA president will precede two keynotes:
Ganga Dhanesh
Associate Dean from the College
of Communication and Media Sciences
in Dubai.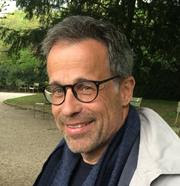 Lars Thøger Christensen
Professor from the Department of Management,
Society and Communication, Copenhagen Business School.
Evening reception
After the keynotes, we will enjoy an opening reception. From day 2, we will move to the buildings of Charles University.
Prepare your travel!
So now that you know the first day programme, you can start booking your tickets and reserving your room. The organiser kindly suggest to opt for one of the hotels listed in the congress website.
Mind the planet – Consider choosing the less impacting means of transport: depending on your start point, you might opt for a train instead of a flight. At due time, we will open the online forum among registered participants to facilitate smart solutions such as the taxi sharing. Local public means are efficient, as well.
Registration
Registration will open soon, we'll keep you posted.
Programme structure
From Sunday Sept. 17 to Wednesday Sept. 20: PhD Seminar
Wednesday Sept. 20: congress starts late afternoon
Thursday Sept. 21 to Friday Sept. 22 late afternoon: congress sessions
Saturday Sept. 23: social programme
Photo credits: Peter Fabo, UMPRUM, Prague.